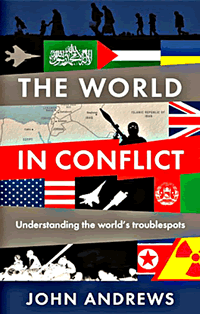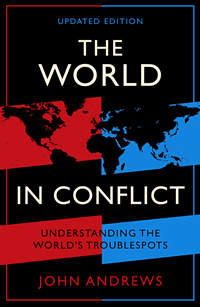 The World in Conflict: Understanding the world's troublespots
A comprehensive analysis of why — and where — armed conflict is ever-present in our world. From the Americas to Africa, and from the Middle East and Asia, John Andrews explains not just the reality of today's conflicts but their historical background.
or if you prefer from Amazon.com

The Asian Challenge: Looking beyond 2000
An analysis of Asia, from the poverty of Pakistan to the economic prowess of Taiwan. Written at the end of the 20th century, the insights into the continent's politics and economics remain relevant today.

Megachange: the World in 2050
Co-edited by Daniel Franklin and John Andrews, writers from The Economist examine the fundamental trends that will affect nations, markets, and civil society in the decades to come.
or if you prefer from Amazon.com

Pocket Asia
Profiles, facts and figures about the 51 countries that make up Asia today, from Afghanistan and Australia, through India and Indonesia, to Uzbekistan and Vietnam. Some two-thirds of the world's population lives in Asia, home to some of the most impressive economic growth in history — but prone to economic swings, political upsets and natural disasters.
The Palestinians
Written by John Andrews and Colin Smith, this Minority Rights Group publication examines the conflict between the Israelis and the Palestinians and the historical developments leading to the division of Palestine and the formation of a Jewish state. Written in 1987, its conclusions are still relevant.
Economist Special Reports
During his career with The Economist John Andrews wrote more than 20 special reports (12,000-word articles that, unlike others in The Economist, bear the author's byline), covering subjects from the airline industry to the world of sport. Two of his favourites were on France and the world of fashion.