Before joining The Economist, Andrews spent six years with the Guardian and led the paper's coverage of OPEC during its 1979–82 heyday. A graduate of Cambridge University in classical and modern Arabic, he came to the Guardian after living for seven years in the Arab world, first as an academic at the University of Libya in Benghazi and later at the American University of Beirut, Lebanon, and then as a journalist.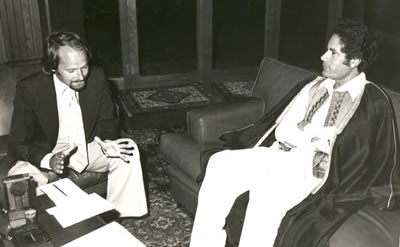 with Qaddafi
Working for America's
NBC News
, he covered the Middle East peace–shuttle of Henry Kissinger and the first year of the Lebanese civil war. His interviews over the years have included leaders such as Muammar al-Qaddafi, Yasser Arafat, Jacques Delors, Prime Minister Lee Hsien Loong (B-G Lee) and Prime Minister Joseph Muscat. A frequent visitor to Greece and Cyprus, Andrews is a founder-member of IPBAC, an international business panel advising
Nicos Anastasiades
, president of Cyprus. John Andrews is also a former Hearst journalism fellow at the Annenberg School of Communication, University of Southern California.
• John Andrews joined The Economist as its industry editor, responsible for the magazine's coverage of airline and telecoms deregulation in the U.S. and privatization in Mrs Thatcher's Britain.
• As South-East Asia correspondent, based in Singapore, he covered the repeated attempts to overthrow the Philippines' fledgling democracy under Cory Aquino and interviewed leading politicians such as Lee Kuan Yew, founding father of modern Singapore, Ma Ying-jeou, president of Taiwan, and the future president of Indonesia, B.J. Habibie.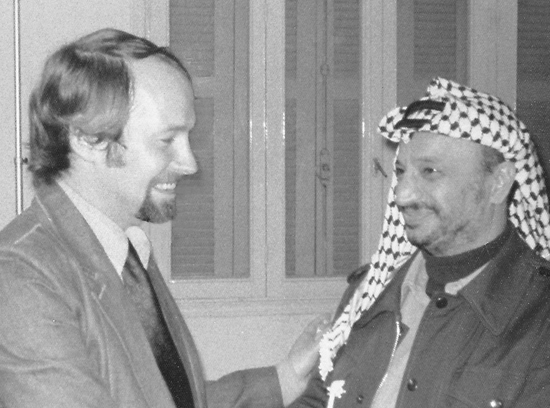 with Arafat
• As China editor, based in Hong Kong, he spent several weeks in Beijing reporting the events—at first inspiring and finally tragic—of Tiananmen Square.
• As Asia editor, based in London, he oversaw The Economist's coverage of the Asian economic boom—and of the corruption and illusions that accompanied it.
• As the European Union correspondent, based in Brussels, Andrews covered the E.U.'s expansion; its attempts to forge common financial, commercial and diplomatic policies; and the acrimonious relationship between Britain and its continental E.U. partners.
• As Washington correspondent, he covered much of the Clinton second term, analysing American politics and society in the news pages and the Lexington column.
• As Paris bureau chief, Andrews reported on the scandal-stained French presidency of Jacques Chirac, the rise of the far-right Front National, and the travails first of the Socialist-led government under Lionel Jospin and then of the conservatives under Jean-Pierre Raffarin.
• As West Coast editor, based in Los Angeles, Andrews covered the recall of California's Governor Gray Davis, the mixed fortunes of Governor Arnold Schwarzenegger and policy issues for the western states such as immigration, urban development and the environment.